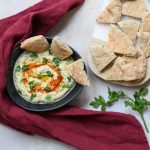 Aubergines have a delicious smoky flavour and are an excellent source of gut friendly fibre. This Baba Ganoush dip is great for sharing, serve with toasted pitta breads and crudités.
Ingredients
2 large or 3 small aubergines
1 tbsp. extra virgin olive oil, plus extra for drizzling
Pinch of salt
1 large garlic clove, skins removed and finely chopped
2 tbsp. lemon juice
1 tbsp. tahini
¼ tsp cumin
1 tbsp. chopped parsley
Pinch of pepper
To serve
1.Pomegranate seeds
2.Preheat the oven to 180C.
3.Top and tail the aubergines, and cut in half lengthways. Place them flesh side up on a baking tray and score them gently in a crisscross pattern. Drizzle with a little extra virgin olive oil and a pinch of salt, and bake in the oven for 45 minutes or until soft.
4.Remove the aubergines from the oven and leave them to cool while you prepare the other ingredients.
5.Place the chopped garlic, lemon juice, tahini, cumin, parsley and pepper in the processor.
6.Remove the flesh from the aubergines, discarding the skins, and add to the processor. Blend for 10 seconds until combined, you want it to still be thick.
7.Transfer to a bowl and sprinkle with pomegranate seeds. Serve with toasted pitta bread and crudités, or store in the fridge for 2-3 days.