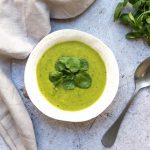 A great sandwich filler, garnish and salad vegetable. A portion of watercress will give you a source of vitamin A and C. Use it in the same way you'd eat other members of the same brassica family, like kale and broccoli.
Check out these 3 ways to enjoy watercress:
1.Go green: Add a generous handful of watercress to pea soup and puree till smooth. Throw in some cashews before blending if you want to make it more filling.
2.Leftover makeover: Add watercress leaves to leftover shredded chicken or steak. Drizzle with vinaigrette and devour.
3.Speedy bowl food: Add some watercress sprigs and fresh lime to noodle soup for freshness and added zing.